Tag: HDSLR
by IEBA on May.01, 2012, under Published Articles

Litepanels recently shipped the MicroPro Hybrid, a dimmable, on-camera Hybrid LED that can refresh itself much faster than most any strobe light can. Thus it may pack a powerful 1-2 punch for DSLR producers who need to capture both video and still images. But how well does it handle both tasks? In this article Anthony Burokas reviews the new light and compares it to an LED light that's one-fifth the cost to see how these two lights measure up.
Read more at Streaming Media Producer.
by IEBA on Mar.06, 2012, under Published Articles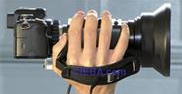 The goal of adding an ENG (electronic news gathering) lens onto a DSLR is primarily to take advantage of the servo zoom part–the smooth, consistent, motorized zoom. But there are other useful advantages, even if you never use the powered servo zoom. You have multiple focal lengths like any zoom lens and a consistently low f-stop throughout the zoom range. A third, less-talked-about advantage is the cost-effectiveness. For the cost of two good, bright, prime lenses, you can get a decent HD camcorder lens for your camera. So let's talk more about getting that ENG lens up and running.
Read More at Streaming Media Producer.
by IEBA on Jan.11, 2012, under Published Articles

Sonnet has crafted a beautiful solution for rapid footage offload that gives your laptop far more connectivity, power, and capability than ever before. The system is solid, and in pure professional parlance, it does what it says it can do. The Qio is, according to Anthony Burokas, the most useful professional video production accessory for a laptop-enabled tapeless live production workflow that you can get.
Read more at Streaming Media Producer.