Tag: video mixer
by IEBA on Feb.10, 2012, under Published Articles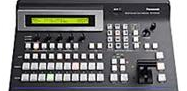 HD video mixers aren't cheap, but they do offer amazing functionality inside compact boxes. I put Panasonic's AV-HS400N through its paces during an awards ceremony. I found much to like, and a few minor issues, and look forward to technologies like this becoming more affordable in the years to come.
Read more at Streaming Media Producer.
by IEBA on May.01, 2011, under Published Articles

In this age of "one device does everything," Roland-a name more associated with audio gear than video-has been producing some quite capable video mixers, recorders, and players. The company's latest mixer, the VR-5, features multiple video inputs, an internal media player, computer input and conversion, a built-in audio mixer, two integrated LCD monitors to see video inputs, output and various device settings, and the ability to internally record your program output while also sending your program to a laptop for streaming-all for an MSRP of $4,995. Sound too good to be true? Well, after working with the VR-5 I can tell you that they pull off nearly all of it with aplomb.
Read more on EventDV.