Tag: live streaming
by IEBA on Mar.22, 2012, under Published Articles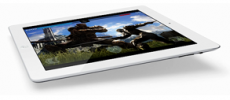 Apple's New iPad 3 is making quite a splash. Several key features really play out to the benefit of media producers for whom ultra-fast turnaround is paramount. With the latest processing horsepower and the latest version of iOS iMovie a lot of computers are going to be left collecting dust with this.
Read more at VideoUniversity.
by IEBA on Jan.28, 2012, under NEWS BITS

When it comes to corporate work, especially webcasts, the traditional camcorder is still the workhorse. These cameras can be set to interface directly with multi-camera video mixers, and even be remotely painted to match perfectly. Plus, like DSLRs, they can have the lens changed out for something more appropriate for the venue, like a very long zoom lens for capturing the president of the company as he stands on stage, an entire ballroom away.
by IEBA on May.01, 2011, under Published Articles

In this age of "one device does everything," Roland-a name more associated with audio gear than video-has been producing some quite capable video mixers, recorders, and players. The company's latest mixer, the VR-5, features multiple video inputs, an internal media player, computer input and conversion, a built-in audio mixer, two integrated LCD monitors to see video inputs, output and various device settings, and the ability to internally record your program output while also sending your program to a laptop for streaming-all for an MSRP of $4,995. Sound too good to be true? Well, after working with the VR-5 I can tell you that they pull off nearly all of it with aplomb.
Read more on EventDV.