Tag: camera
by IEBA on Mar.22, 2012, under Published Articles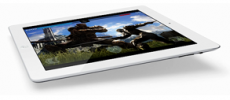 Apple's New iPad 3 is making quite a splash. Several key features really play out to the benefit of media producers for whom ultra-fast turnaround is paramount. With the latest processing horsepower and the latest version of iOS iMovie a lot of computers are going to be left collecting dust with this.
Read more at VideoUniversity.
by IEBA on Jun.09, 2009, under NEWS BITS
Took a quick trip back up to Philly to not only set up and engineer a few episodes of Healthy Flavors for Multi Media Productions, but I also directed both shows. Feedback from the clients on hand was excellent.
The familiar team was assembled for this shoot: Bob Terrio was on camera, Larry Bossone was on crane. We added the new MMP freelancer on camera 2 and he did a fine job. Everyone handled setting up and shooting in a new, unfamiliar location with ease. (continue reading…)