Tag: ENG lens
by IEBA on Feb.06, 2015, under For Sale, OUR GEAR, Production
B4-Cage Demo – IEBA Communications – 215-632-3283 – Dallas Video Production
Did I just put together a cage to make ENG lenses a lot easier to use on DSLRs? Yes, I did.
Then I made a comprehensive demo video showing how it all comes together, the advantages of the pieces I selected, and how it integrates into other aspects of DSLR camera operation.
by IEBA on Mar.06, 2012, under Published Articles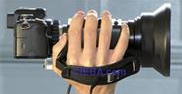 The goal of adding an ENG (electronic news gathering) lens onto a DSLR is primarily to take advantage of the servo zoom part–the smooth, consistent, motorized zoom. But there are other useful advantages, even if you never use the powered servo zoom. You have multiple focal lengths like any zoom lens and a consistently low f-stop throughout the zoom range. A third, less-talked-about advantage is the cost-effectiveness. For the cost of two good, bright, prime lenses, you can get a decent HD camcorder lens for your camera. So let's talk more about getting that ENG lens up and running.
Read More at Streaming Media Producer.
by IEBA on Feb.16, 2012, under Published Articles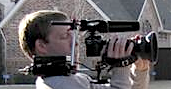 DSLRs have become the standard by which current and future large-sensor camcorders are judged. But as we adopted DSLRs and primes to produce more "filmic" video for our clients, we left something critical behind: the feathery smooth servo zoom that serves feature film producers so well. So how do you get that capability on your DSLR?
Read more at Streaming Media Producer