Adapting ENG Lenses to DSLR Production, Part 2: Power & Rigging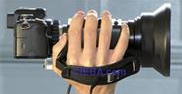 The goal of adding an ENG (electronic news gathering) lens onto a DSLR is primarily to take advantage of the servo zoom part–the smooth, consistent, motorized zoom. But there are other useful advantages, even if you never use the powered servo zoom. You have multiple focal lengths like any zoom lens and a consistently low f-stop throughout the zoom range. A third, less-talked-about advantage is the cost-effectiveness. For the cost of two good, bright, prime lenses, you can get a decent HD camcorder lens for your camera. So let's talk more about getting that ENG lens up and running.
Read More at Streaming Media Producer.