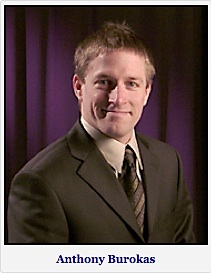 Anthony Burokas has been producing award winning audio and video for 20 years. Now, he brings his award-winning corporate video production skills to the Dallas TX area. From studio management, electronic cinematography, lighting, and shooting, to editing, duplication and distribution, he has the experience you need from concept to completion. He has lectured, taught, trained and consulted worldwide. Here are some highlights.
"Anthony possesses a rare talent among video production professionals–namely his balance of creative acumen goes hand-in-hand with his deep knowledge of video technology. And the end result for his clients is a production that perfectly fits the core needs of the client for that specific job. Anthony has a solid background in building and managing production facilities. His understanding of growing media delivery technologies is balanced with an understanding of the media sales and marketing process. If you're looking for a new-media guru, Anthony is a "one-stop-shopping" answer to your needs." — Layne Solheim, Executive Producer & Video Streaming Pro at VideoPros
In 1995, IEBA Communications, LLC was incorporated to facilitate the four month,

on-location production of an eight-part Alaskan outdoor adventure series, Wilderness Adventures Off The Beaten Path. Whether it was hanging off ice glaciers, or 14 days on a river rafting boat, Anthony directed multiple cameras, and edited the series with an energy that enables this video series to stocked on store shelves today.
"I have known and worked with Anthony for almost twenty years. He combines an expertise of the complicated technical equipment used in video production with a unique artistic creativity. He is comfortable in all working environments, whether corporate, industrial or social event videography. His many skills and positive attitude assure a job well done!" — Bob Terrio, President, Bob Terrio Creations

"Anthony is a consummate professional and always provides excellent work. His technical abilities are incredibly deep and, coupled with his problem solving abilities, he never fails to amaze with solutions and results. Anthony is always a first call when there is a technical conundrum to be worked out. And through it all his wit keeps the mood light." — Michael Schweisheimer, President, Primitive World Productions
All the while, he was technical director, graphics manager, camera operator,

and lead editor for the PBS series Flavors of America. In 2001, the American Film Institute partnered with Sony and held a nationwide competition for video production. Anthony's work on Flavors of America helped it to capture the award for Excellence in Performance Coverage. In 2005, the series became Healthy Flavors to reflect the nation's interest in eating healthier. See a behind the scenes video here.
In 2008, Anthony upgraded the entire production to full 1920×1080 HD. He selected and integrated all production and post-production equipment used on the series. See a sample of the HD video here.
"Anthony is my first resource for technology advice. He simply knows his facts and does his homework. He provides our company with sound advice and services that we can depend on. Our migration from analogue to HD would have unapproachable and extremely risky without the strategic vision of Anthony (IEBA). Moreover, IEBA is our first call when we schedule complicated productions or need to manage a multiple-editor pipeline to deliver 62 episodes on time and in spec." — James Davey, Executive Producer Healthy Flavors, Flavors of America
Merck & Co., Inc. tapped Anthony Burokas to oversee the video studio in their E-Learning and Training facility just outside Philadelphia. There Anthony handled all aspects of production– producing, directing, editing, and online interactive delivery.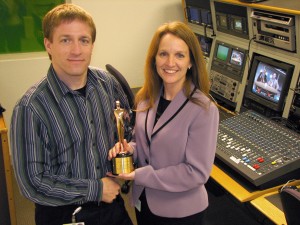 Anthony also managed fiscal and long-term development plans for the studio itself while serving dozens of new in-house clients every month.
The highlight of this work was a 14 minute training film to instruct sales representatives in best practices when dealing with doctors- but do it in a very lighthearted manner. The script took the MyCall product and integrated it into Monday Night Football and created Monday Night MyCall which uses two over the top "sports anchors" and "on the field" reporters to illustrate good and bad.
"Anthony is Ian expert video production manager. I've worked with him on several projects throughout the years. For each video project, he worked closely with me to gain an understanding the result that I was looking for and used his creativity to create corporate videos that exceeded my expectations. He is extremely easy to work with; he is very professional. He is an expert at directing the talent. Our most recent project has awarded us with a Telly Award. Anthony worked with me to add unique and creative touches to the script and direct both professional and non professional talent through a series of unrelated scenes, and seamlessly editing it all together to look like a live broadcast of Monday Night Football with direct interaction between the scenes. Our internal customers provided excellent feedback on the video as it was a humerous and effective method to train our target audience." — Kelly DeTommaso, Executive Producer "Monday Night MyCall" Manager, Global Curriculum Development Team at Merck & Co., Inc.

This award winning video seamlessly integrated both professional and non-professional talent- which cut costs dramatically, yet Anthony kept the product top notch all the way through. In addition to internal and external awards, the video was also sought out and adopted for use in other countries, and translated into other languages. You can see a small segment of the work, as well as production stills here
Because of his work at the forefront of the field, and some 15 years in the event videography business,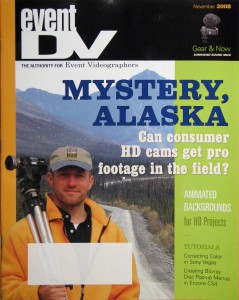 Information Today brought Anthony on board as one of the founding contributing editors when they launched EventDV Magazine in 2005.
Anthony was the HD-Today columnist as the event videography industry began its hesitant transition from the old formats to today's HD standards. Thousands of professionals nationwide relied on his qualitative product reviews for their studio upgrade plans. Not content with giving Anthony's comparative reviews an extensive 6 or 8 pages of the magazine, they featured Anthony on the cover for his test of high-end consumer HD camcorders in Alaska. He continues reviewing production gear for EventDV today.
"Anthony has shown a great grasp of video-related technology — particularly high definition video — and has brought it to bear in a number of insightful and interesting articles and projects. He's a recognized, respected and outspoken technology leader in the digital video market." — Jan Ozer, Contributing Editor "EventDV Magazine"
In 2009, Anthony moved IEBA Communications— production services, editing, and gear rental, to Frisco, TX, a suburb of the ever-growing Dallas / Fort Worth metropolitan area to reach a new level of clientele. He serves Frisco, McKinney, Dallas, Fort Worth and the tech corridor in Richardson Texas. He enlists local freelance talent to continue to cost-effectively produce video that exceeds his clients' needs.
For more detailed information about Anthony's work history, including over 30 qualified recommendation from clients and co-workers, visit Anthony's Linked In page.