Tag: eng
by IEBA on Jan.24, 2012, under Published Articles

Panasonic has several camcorders with similar build, but different underlying core technologies — specifically, the AC160/130 and the HPX250. The key difference between them, respectively, is 4:2:0 MP4 GOP at 1920×1080 resolution and AVCCAM recording as high at 21Mbps, versus 10-bit, 4:2:2 independent-frame, 1920 x 1080 resolution AVC-Intra 100 recording. For those who find AVCHD sufficient, but want a full-on camcorder solution without additional workarounds needed compared to more consumer cameras, the AC160 is meant to fit in your hand.
Read more at Creative COW.
by IEBA on May.01, 2009, under NEWS BITS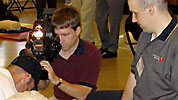 Anthony had already worked for The American Heart Association before coming down to Dallas, so when he did arrive here, he was happy to help out again with their "Go Red For Women" campaign.
Anthony shot two days of HD as six women prepared and began a 6-month fitness program to promote heart healthy awareness among women. Four of them were selected to actively blog about their odyssey. (continue reading…)