REVIEW: Panasonic AG-HMC80 On-Shoulder Camcorder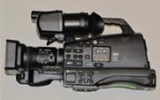 In an era of ever-shrinking HD cameras, cell phone HD, and DSLRs, you might ask, why would anyone need an on-shoulder HD camcorder? Is it the copious amount of I/O jacks? The ergonomics? Or the easy access to numerous features in a big camera sort of way that enamor the Panasonic AG-HMC80 to its target end users? Let's find out.
Read more at Streaming Media Producer.