REVIEW: Panasonic AG-AC7P Shouldermount Camcorder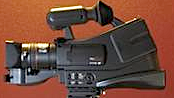 A physically similar follow-up to Panasonic's more professional AG-HMC80 AVCCAM, the AC7P uses the more consumer AVCHD format, loses a few ports, and drops $1,200 from the price tag, making the $1,300 (MSRP) AG-AC7 the least expensive actual on-shoulder camcorder you can buy. But what do you get?
Read more at Streaming Media Producer.