When in Rome- or rather, The Old West…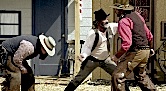 Now that movies are shot with HD video cameras, there is certainly a lot more work for video professionals who previously only aspired to produce TV. Everything else was film and that was a completely different beast. But now that the West was won by digital video cameras, I've been tapped to work on a period western movie to be shot on P2 in HD. With considerable HD experience, I'll be part of the camera teams, working under the DP, of course. When in the west… do a Western. Heeyah!
By day two, I was Director of Photography (DP) of the second unit. I oversaw shoots where the rangers (pictured above) investigate the scene where the money wagon was robbed. This scene included digging out the ground to lower the camera enough to get the ground and a full profile of the old ranger, Sagebrush (R), as he discovers a second pool of blood to indicate that the bandit that robbed the money wagon was also shot and could not have eluded the posse as they were told.
Then I also shot the entrance of the the stagecoach carrying our heroine into town. This one shot involved some 30 extras in full period costume milling around town, horses, the stagecoach and more. Quite a lot to wrangle for a 15 second shot. I shot this on the HVX200a in 720p24 (the setting the producers established for the entire production.) We did several takes from the second floor balcony and then a few low angle takes of the horses and the wheels of the carriage to add some excitement.
If it weren't for the fact that my allergies to cats & dogs extends to horses— and there are a LOT of horses on a western, as well as grassy lands filled with horse hair and dander, I would have stayed on set for the duration. The production was exciting, the crew dedicated and talented and the story interesting to bring to life. I was glad to be a part of this team and assist the production of this movie. Next time, better meds!