HDV Recording: Sony HDR-FX1 Camcorder — $250/day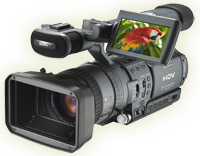 The venerable FX1 is a true prosumer HDV camcorder.
The pro model adds XLR inputs, but lens, chips, and images captured are identical.
HDV tape still is the cost leader for recording HD images. Shoot and go, or hand it off to the client.
True 3-CCD chips – no rolling shutter, no flash banding, no jello-cam, no image distortion.
.
Rental price is for camcorder. Camcorder travels with me- it doesn't rent by itself.
I have shot with this camcorder for years. I've shot HDV since JVC made the first HDV camcorder in 2003. I know the format's limitations and how to make it look good. I rent for $550 a day. Call for 1/2 day or multi-day rates.
INCLUDES:
Samson diversity, frequency agile, lav & handheld audio (batts included) + backup wireless mic.
2 Camera lights: Sony 10/20w tungsten, Dimmable LED- both use camcorder batteries.
Bogen 3-stage stix with ball leveling & smooth, real fluid pan.
Varizoon Stealth for easy on-tripod zooms.
Monitoring cables, component (SD/HD) AV and Firewire
Enough batteries for 4+ hours of tape & battery charger
Tape included as we only use one brand- Panasonic Master- stock to avoid dropout issues
tapes are yours to take home.
OPTIONS:
For another $150 a day, add the Firestore FS-4 to record direct to hard drive and then transfer the footage to your computer (over Firewire) in jut a few minutes. Do not bother with digitizing all the clips in real time. Double up with the Firestore and say goodbye to digitizing. $150/day
Wide angle lens options:
— Impact 0.7x Converter. Zoom through. Nice pictures, good for when the lens needs to stay on the camera. $10/day
— Raynox 0.79 Super Low Distortion adaptor. Can't zoom through, but best for wide angle on the Glidecam. $10/day
Glidecam set up for the FX1 & camera light
Light kits $50/day- each
Scopes Critical for EFP and broadcast work. $50/day
This CCD camcorder does not suffer from rolling shutter issues that distort images when panning, or with movement in the frame. It properly captures flashes of light.
HDV to deck and Firewire out is dynamically switchable from HDV to wide screen or letterboxed DV.
I have also used this extensively on Glidecam and Steadicam rigs (see my event video demo) for incredible motion, tracking, booming, etc.
Couple this with the FireStore hard drive recorder, or a separate media recorder of your choice (FireWire input) and you can walk away with media the instant we stop recording.
.
.
.
Info From Sony:
Play and record interlaced high definition video at resolutions up to 1440 x 1080 for professional quality video with vivid colors and striking detail with the Handycam® HDR-FX1. The HDR-FX1 features the real-time HD codec engine, which offers professional-level MPEG2 video compression, and 14bit HD DXP (Digital Extended Processor) for increased processing speed. Images are captured on three chip Advanced HAD™ CCD system that provides increased detail and improved video performance without the color bleeding found in other system. Optical capabilities include a Carl Zeiss® Vario-Sonnar® T* lens with 12x optical zoom and Super SteadyShot® image stabilization.
3-1/3″ 16:9 Advanced HAD™ CCD Imagers 1,120K Pixels Gross
Advanced HAD™ (Hole Accumulation Diode) CCD imagers with 1,120K effective (video) pixels provides excellent detail and clarity with exceptional digital video performance. Using a 3 chip Advanced HAD™ CCD system and dichroic prism to separate color information, colors are extremely accurate, and color "bleeding" and "smearing" are greatly reduced. NO "rolling shutter" or other CMOS imager issues.
Advanced HAD™ CCD Technology
Enhanced CCD design allows more light to reach the imager which reduces video noise to improve signal-to-noise ratio by up to 6db (2x better than a standard CCD). Particularly effective when shooting in dark situations.
HDV Recording Format
From the innovators in camcorder technology, Sony's HDR-FX1 camcorder is the world's first HDV1080i consumer level camcorder and player. Now you can record all your memories in true high-definition video.
Switchable HDV/DV Format Recording
The HDR-FX1 is capable of recording and playing back both High Definition and Standard Definition video recorded on standard MiniDV cassettes.
Real-time HD Codec Engine
A Sony developed Real Time MPEG Encode/Decode system with reduced in energy consumption and compact size to fit inside a personal camcorder. Provides efficient MPEG2 compression, and recording and playback of clear HD images at the same bit rate of the DV format, so that High Definition video can be recorded on the same cassettes as are used for MiniDV recording.
12X Optical Carl Zeiss® Vario-Sonnar® T Lens
From the authority in lens technology, the Carl Zeiss® Vario-Sonnar® T lens provides a high quality 12x optical zoom which maintains image clarity and color while reducing glare and flare.
3.5″ Wide Precision Hybrid SwivelScreen™ LCD Display3 (250K Pixels)
Provides excellent viewing clarity with improved resolution. The 250K pixel LCD display makes images sharp and detailed during playback or when monitoring recording. The Hybrid Reflective-Transmissive LCD Screen provides accurate viewing in sunlight or bright light, virtually eliminating the "washout" common with traditional LCD Screens.
Super SteadyShot® Optical Stabilization System
An advanced form of Sony's SteadyShot Image Stabilization system that controls an even higher range of shake and vibration frequencies. This optical stabilization system achieves an even higher level of smoothness without degradation of video like some digital stabilization systems.
Analog/Digital Conversion with Pass-Through
Convert and/or record any analog NTSC video source to digital video via the analog inputs. Analog NTSC video can also be passed through the digital Handycam camcorder directly into a PC via the i.LINK®2 interface in real-time for easy PC editing of your analog footage.
Manual Zoom and Manual Focus Ring
Dual independent Zoom and Focus rings provide precise and detailed control over the amount of zoom and the overall focus of the image with just a turn of the rings. Fast, intuitive framing when zooming, and finely detailed focusing is easy with the natural "feel" of the rings.
Expanded Focus Indicator
The camera's LCD image is magnified, temporarily, up to 4X its original size without any loss of distortion. This allows the user more finite control while focusing the camera for greater detail and clarity.
Picture Profile
Allows the user to set manual adjustments for a scene (color, sharpness, white balance, etc) into any one of six presets, so they can be called up at just the touch of a button. Useful when shooting under the same conditions repeatedly, as options do not have to be re-set each time. Settings for various shooting conditions are offered as defaults.
CineFrame™ Recording
Not really usable on this camcorder.
Assignable Buttons
Three buttons on the exterior of the camcorder are user-assignable so that they can be set to the options most commonly utilized, for ease of recording.
i.LINK®2 DV Interface (IEEE1394)
A high speed bi-directional digital video/audio communication between two compatible devices equipped with an IEEE1394 interface, including camcorders, digital VCRs, and PCs.
Shot Transition
Allows for a smooth automatic scene transition. Settings for focus, zoom, iris, gain, shutter, and white balance can be set to the A/B button and a smooth transition will take place according to the set time. This function enables the focus to gradually shift from the front of the screen to a deeper part of the screen. Thus the iris enables a smooth change of depth of field.