Mastering the Dallas Screenwriters Association – 2011 Short Film Showcase
What does it take to master 11 DVD's, 4 WMVs, and 3 .mov's onto one disc? Not a lot. But it does take a thorough of understanding what goes into mastering a DVD and what the shortest distance is between Source and Delivery.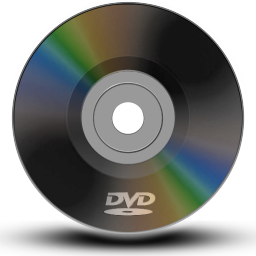 The Dallas Screenwriters Association had gathered more than 12 movies for it's 2011 Showcase. Add to this some PSA's and some new media created specifically for this program, and you have the makings for a special challenge. But there's a way around this potentially tricky multiformat maze that enabled the finished DVD to be delivered in just a couple days- and that includes delays for work on other projects, and the need to create a few new media bits.
Several people advised me to take everything in to Final Cut Pro so I could best manage the clips. The trouble was the disparate media I was handed. The majority of it was compressed for delivery on DVD. But that was actually the answer to the problem. The source DVD's are obviously already mastered for DVD. These are MPEG-2 files that can be found on any DVD. These .vob files are exactly what a DVD player expects to see and there wasn't a single reason to convert them to something else to have to compress them back to MPEG-2 for final delivery on a VD, which is what the DSA needed.

So Final Cut Pro was useless because it couldn't handle the .vob files natively. Even more so, it really demonstrated that an editing program was not of much use at all. All the films and clips were already finished. I just needed a way to arrange them in order on the disk, and to compress only those clips that needed to be compressed. This would leave all the short films completely intact- exactly as the original authors intended them to look. The other two Apple solutions were also useless- iDVD was too simple and wouldn't work with the .vob files. DVD Studio Pro wouldn't deal with the .vob files either. This was actually a surprise to me as it is Apple's "pro" disk authoring tool, I expected it to easily handle media directly from the DVD's. But it didn't. I was reluctant to start converting all the finished video to something these programs could handle, so I kept looking.
I turned to my 3rd party solution… Roxio Toast.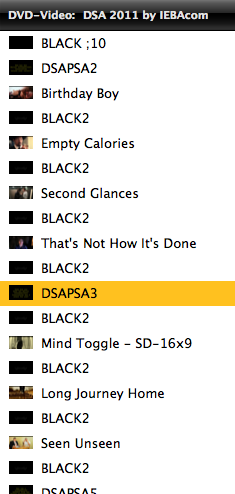 I set it up to create a new DVD-video disk and dragged in the various media. It took the .vob files and the .wmv files with ease. There were also two .mov files that dropped in easily. Once everything was lined up, I burned a disk. Reviewing the finished disk, I saw a need for improvement. There needed to be more time between each movie. Instead of the final credits barely being off the screen before the next movie flshed on screen, there needed to be something to let viewers know that one had fully ended and a new work was about to begin. It would also allow time for applause, etc, between movies.
It was then that I went into my video editing program and created a :10 "coda" called BLACK2 that would fade up a simple graphic element and fade it out. This clip was authored once and then dropped into the DVD numerous times. Toas again made this easy as it allowed me to drop it exactly where I wanted it to go, so creating a new clip order with the "black" between each clip took but a few minutes. I was again thankful that I had not used an editing program to make a 2-hour program, compress it to DVD only to have to do it over again.
Lastly, I added a longer section of black to the top of the program to give the DSA time to start playback and then pause it on the first, all black clip. This way they could talk and introduce the evening's program as long as they wanted with a black screen behind them. Then starting playback would be as simple as clicking play once more.
The little magic that made Toast work where other applications might not have worked as well is Toast's ability to handle .vob files natively, so only a few clips had to be compressed to MPEG-2 when authoring the DVD. Secondly, Toast offered the ability to start playing the disk automatically, and to play the clips through continuously. So each individual clip called the next one in line. The DVD's menu never appears unless you specifically call it up.
There's only one other feature that would have been useful, but in this case it was unneeded. A higher-end DVD authoring app would have made a disc that worked the same way, but it would have let me have only one "coda" clip on the disc, and as the disc played back, it would just keep going back to the same piece of media each time. Toast did not offer this functionality, but as the "coda" clip was only 10 seconds, having multiple copies of BLACK2 on the DVD did not take up considerable room and the entire 2-hour program easily fit on a single layer DVD.
I burned a second master DVD, in case of a disk problem, and delivered the finished product two days ahead of time.