REVIEW: Test results of the Nikon D800's video- grading, sharpness, moire, and more.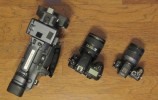 There's no question that video-capable DSLRs deliver a very different look from what you get with a prosumer camcorder, for about the same price. Plus you get killer stills, something no video camera—not even a 5K RED Epic—is going to match. This is especially the case when the camera is the 36 MP, full-frame, Nikon D800.
The D800 and Nikkor 24-120mm VR lens system I received from Nikon for review lists for $4,200. A decent prosumer camcorder, like the Panasonic AG-AC160, which I had an opportunity to test a few months ago, has a street price just north of $4,000. So they are definitely comparable in price. The real issue is the look of the image, as well as usability and features.
In Part 1 of this two-part series on the D800, I looked at the operation and functionality of the D800 as a video camera. Now, in Part 2, I'll share some usability notes, as report the results of some audio and video tests comparing the D800 to another highly regarded DSLR, the Panasonic GH2, and to a more traditional prosumer camcorder. Read more of this 5-page (and 5 video) review at Streaming Media Producer.